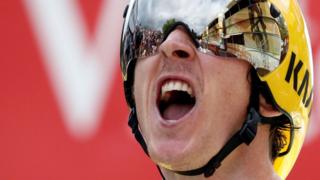 Geraint Thomas will become the first Welshman to win the Tour de France when he crosses the finish line in Paris on Sunday.
His place in the history books was assured with a stunning performance in a time trial on Saturday, when he retained the leader's yellow jersey.
Tradition dictates that the wearer is given a free run to the French capital in a celebratory procession.
The Cardiff rider has been inundated with congratulations from Wales.
He will become the third Briton to win the Tour de France, after Sir Bradley Wiggins in 2012 and Sky team mate Chris Froome.
Buildings – including castles and the City Hall in the Welsh capital – were lit up in yellow overnight to mark the occasion.
The First Minister Carwyn Jones described Thomas's success as a "fantastic achievement".
"Wales will be cheering you on as you head to the finish," he tweeted.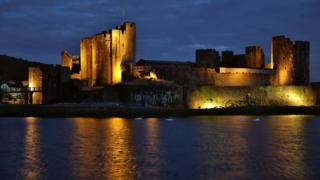 Welsh Secretary Alun Cairns described the 32-year-old as an inspirational role model, adding: "His grit and determination over the last few weeks demonstrates how much he wants to win this epic race.
"Geraint is a brilliant ambassador for the sport, for Wales and thoroughly deserves his place in history – llongyfarchiadau mawr."
Huw Jones-Williams, head teacher at Whitchurch High School. said: "It is amazing to see that one of our former students has won the Tour de France and become the first Welshman to do so.
"Geraint is already a legend at the school being a triple World Champion, double Olympic gold medallist and Commonwealth gold medallist amongst his many incredible achievements."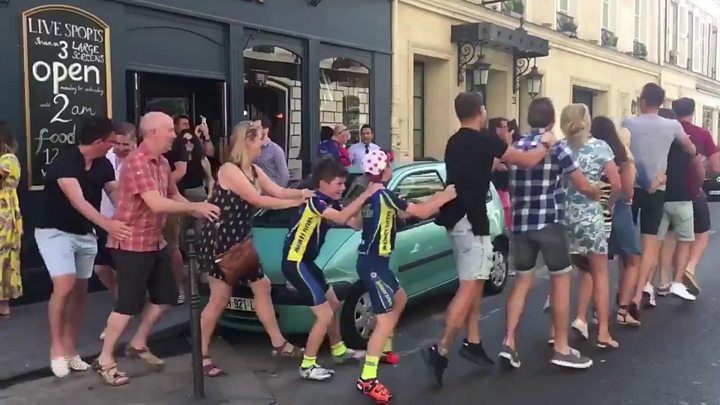 Thomas, a two-time Olympic Gold medallist, sets off on his final leg of the journey on Sunday afternoon, finishing in the Champs-Elysees at about 18:00 BST.
As long as he crosses the finish line, he will win the race.
He described Saturday's penultimate stage as "insane".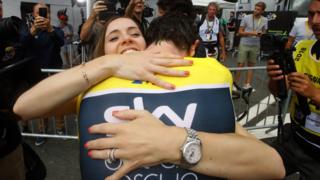 He was greeted at the finish line by his wife Sara, who had been secretly flown out for the occasion.
"I tried not to think about it, just take it day by day. I've won the Tour de France man, I don't know what to say," he said after crossing the line almost two minutes ahead of his nearest rival, Tom Domoulin.
"The last time I cried was when I got married and I don't know what's happened to me."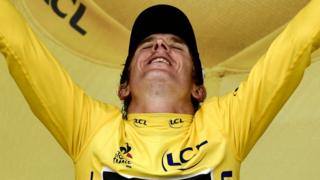 Read more: http://www.bbc.co.uk/news/uk-wales-44993749