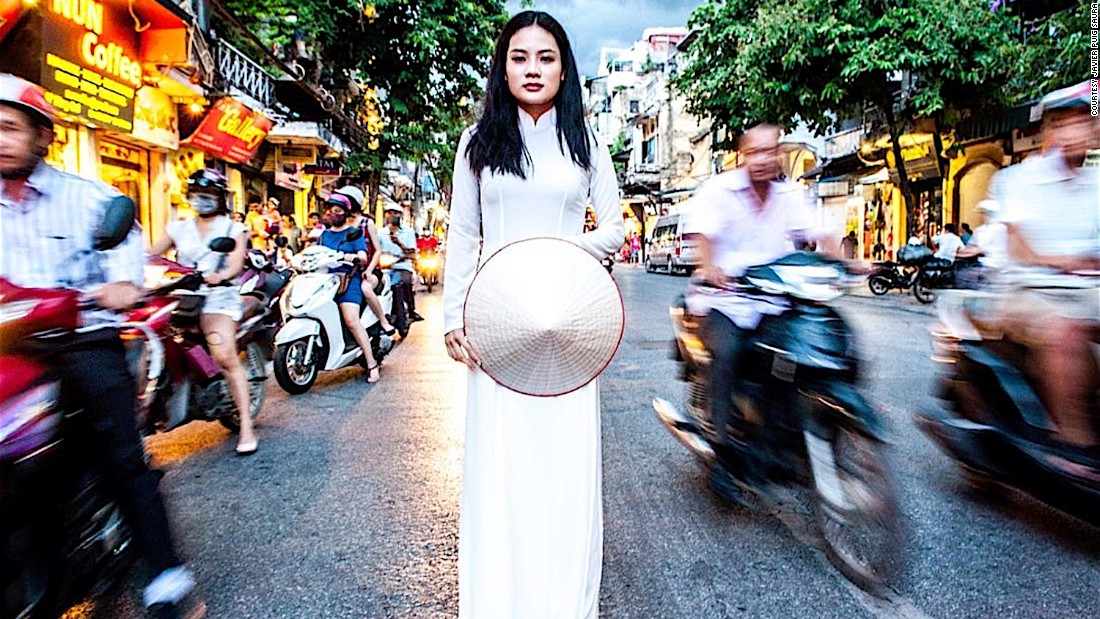 (CNN)From food-fueled itineraries to quiet cultural corners, Hanoi is a photographer's dream destination.
With a penchant for side streets and quiet lakes, these Instagram stars explore the city's rooftops, coffee shops and the French colonial Old Quarter.
The night owl
March 22, 2015. Hanoi, Vietnam. A couple poses for pre wedding photos at sunset on the side of Hoan Kiem lake. #couple #pose #photoshoot #hoankiem #lake #sunset #preweeding #wedding #groom #bride #kiss #intimacy #cinematic #fun #travel #documentary #hanoi #vietnam #ReportageSpotlight #everydayvietnam #everydayasia #everydayeverywhere
With more than 70,000 followers on
Instagram
and a career as a photojournalist and documentarian, Linh Pham is among Vietnam's most talented photographers.
After studying graphic design in college, Pham spent two years traveling the world as a freelance photographer.
But he felt a lack of connection to these places and soon returned to find his roots in Hanoi.
In 2015, he began photographing the city, capturing its energy, people and social issues — re-exploring his hometown through oft-overlooked details.
"I want to tell the world about contemporary Vietnam through my photos," says Pham.
Test post here. The cool folks at @instagram just allow us to post landscape photos along with the same old square starting from today. Instagram created a new shooting habit for me as I'm shooting 1:1 with the phone exclusively these days. Let see what people come up with this new (to Instagram) tweak! March 22, 2015. Hanoi, Vietnam. Police officers watch over the crowd attending Earth Hour in front of Hanoi Opera House. #landscape #police #officer #policeman #crowd #flare #night #opera #theater #earthhour #travel #documentary #hanoi #vietnam #everydayvietnam #everydayasia #everydayeverywhere
"It's not just the kind of postcard landscape you would expect from the guidebook. As a developing country, Vietnam has a lot more stories to offer."
As a local, Pham says he knows many "backstage" shots and alternative angles to show Hanoi from a fresh perspective.
"I love photos with layers — the kind of photos that make you stop and look more closely to really figure out what's going on in the scene," he adds.
He gravitates to the Long Bien Market at midnight to capture night-shift workers in action, walks around at 5 a.m. before sunrise to enjoy the silent streets and climbs to rooftop apartments to see the city from above.
But even if you're not quite so committed to roaming the streets from dusk to dawn, Pham suggests a few more accessible photography opportunities.
"In Vietnam, life happens on the streets — just walking around provides you with glimpses about how people are and have always been living," he says.
"It's heaven for street photography because of the vibrant activities outside."
He suggests stopping to try the local sweet soup — a glass of crushed ice with tapioca balls and grass jelly — while watching the city come to life.
"To some people it's a noisy and congested city, but there are secret quiet corners right at the heart of Hanoi," he says.
"On the surface it looks old, chaotic or plain dirty, but with patience and empathy, one can surely find beauty and order in every frame."
The peace-seeker
Lm sao thi bay thnh ph nhu nt c k Nhng ngy bt nhp ph khn Thng 2, c iu chi i ti
A Hanoi native, 30-year-old Lan Chi Tran has a deep connection with her hometown — evident on her vibrant
Instagram feed
, where she has 9,000-plus followers.
"Hanoi is a dreamy city," says Tran. "Some people say that my images are simple and touching. It makes them miss Hanoi, or makes them really want to go to Hanoi."
The graphic designer doubles as a street photographer, chronicling her favorite teashops, streets and moments in Hanoi.
Tran pursues photography as way to relax — even in busy Hanoi, she finds peace through her practice.
Ch khu nh rn rng nng lung linh
"I often go around by myself, and when I observe slowly and feel it with all of my senses, I see beauty everywhere," she explains. "It's a way of meditation for me — a way of mindfulness."
Tran says every corner of Hanoi is inspiring — from coffee shops to trees, people, architecture and old-world charm.
For colorful and calming surrounds, she suggests Phan Dinh Phung Street, a tree-lined avenue dotted with French villas and Chinese mansions.
She also recommends Ly Dao Thanh Street, in the old quarter behind Hotel Sofitel Legend Metropole Hanoi and, of course West Lake, the city's largest freshwater lake.
"I always feel calm when being at these places," she says. "The streets are always crowded but when you are there, it's somehow very quiet and peaceful."
When showing friends around town, Tran skips the big-name restaurants and heads instead to her favorite local coffee shops and cafes.
She likes to tuck into lunch at Crab Noodle along Nha Tho Alley or sip on soup at Sweet Soup on Hang Bo Street.
"When I am taking pictures, I want something colorful," she says. "I like to play with the colors — and I want happy photos."
The culture hound
Ao Dai in the traffic. #vietnam #vietnamese #ig_vietnam #everydayeverywhere #everydayvietnam #everydaysoutheastasia #usa #ig_worldclub #wanderlust #aodai #hanoi #picoftheday #lensculture #lensculturestreets #streetphotography #streetphoto #viagem #viaje #travelgram #natgeotravel #asia #streetstyle #ig_respect #igturko #us #nightshot #igglobalclub #photooftheday #condenast #ig_spain
Originally from Minorca, in Spain, 42-year-old
Javier Puig Saura
moved to Hanoi in 2014, when he was posted at the Spanish Embassy in Hanoi.
A career diplomat, Javier says he was immediately blown away by the energy and color in Hanoi — so much so, that it inspired him to resume his long-neglected hobby of photography.
"I was so surprised by everything I saw — the traffic, the buildings, the people, the food — that I wanted to share it with family and friends back in Spain," Javier tells CNN Travel.
"After a year in Hanoi, one of my best friends came to visit us and talked to me about Instagram, encouraging me to post my pictures there."
The more he shot, the more Javier wanted to see and discover — all the while posting on his dynamic Instagram feed.
"Life, from birth to death, happens on the streets," says Javier. "And there is also this fabulous mix of tradition and modernity, European influence and Asian character."
Chc mng nm mi Once again thousands of kumquat trees are being delivered all around Hanoi by fast and somewhat rash motorbikes. Kumquat is a symbol of luck, wealth and hapiness. Tt, the new lunar year, is getting close! Get ready for the year of the Rooster!!! #vietnam #vietnamese #hanoi #hanoianstotravel #everydayvietnam #everydaysoutheastasia #everydayeverywhere #ig_vietnam #ig_spain #picoftheday #photooftheday #travel #travelgram #travelphotography #wanderlust #tet #buddhism #natgeo #natgeotravel #asia #photojournalism #nikon #streetlife #viajar #streephotography #visitvietnam #bike #newyear #travelasia #lensculturestreets
When Javier sets out to shoot, he typically avoids landscapes and food, gravitating instead towards people.
But street photography is tough. He says it's akin to going fishing or hunting — luck must be on your side.
Instead of simply snapping away, Javier usually begins with a conversation.
"Basically, taking pictures is an excuse to meet people so I use the camera as a pretext," says Javier, who regularly sits down to share a beer with his subjects and even delivers printed photos later as a gift.
"For me to trigger the camera is the last act on a long series of actions. I like to find a true little story, something unimportant but real as life."
A few of his best fishing expeditions have occurred in the Old Quarter, which Javier says is endlessly photogenic with its yellow facades, French colonial architecture, and bustling motor traffic.
He often visits Hoan Kiem Lake, where he finds Hanoians of all ages exercising, performing Aikido — a Japanese martial art — or just taking a stroll, ice cream in hand.
On the first and 15th day of each month, Javier visits major pagodas and temples — like the Tran Quoc pagoda or Phu Tay Ho temple — to take portraits of the calligraphers who work there during the busy holidays.
"Their job is to write in old Vietnamese characters the wishes and prayers of the worshippers in papers that they will then burn in the fire of the pagoda," explains Javier.
"The smoke is supposed to convey the wishes to the heavenly gods. They wear long beards and are dressed in colorful robes — it's a beautiful sight."
The coffee connoisseur
I used to love all the ghost stories in this book! Classic! #lieutrai #ghoststories #cafe #reading books #coffeebreak #vietnamesecoffee #lieutraichidi #nhanam #iphonography
Although he grew up in a small village, just outside of Hanoi, Bien Thuy Nguyen didn't feel any connection to the city until he moved there as an adult.
The Instagrammer — who shoots under the moniker
Bien on the Road
— relocated to Hanoi eight years ago to attend university.
"I am not a city boy, but Hanoi is always my city, and my favorite city," says Nguyen.
"I got my first camera in 2008. I was shooting in my free time with friends … I fell in love with Hanoi and all its charms. All the historical and cultural layers inspire me."
Now a full-time liaison officer at the UN International School in Hanoi, Nguyen says photography is a hobby — not a profession.
He snaps photos while traveling or wandering around Hanoi, focusing on people and street scenes.
T tm #playingcards #hanoi #vietnam #instatravel #travelgram #instadaily #wanderlust #instagram #ig_travel #ig_hanoi #ig_street #ig_myshot #ig_vietnam #travel360 #travellife #travelphotography #traveladdict #travelling #tourists #oldmen #hanoistreetlife #hanoipavements #littleplasticchairs #hiddencharm
"The people and their daily life in the city are like watching a film — lively and interesting," he says.
"I take photos of whatever happens on the streets, or at secret corners, quiet alleys, beautiful architecture such as temples, churches, castles… of course coffee shops too."
Nguyen captures cafes for his side project
Hanoi Hideaway
— a site and app dedicated to finding Hanoi's rich coffee culture.
"You can also find many interesting stories about the city and its history in coffee shops."
Nguyen recommends
Loading T
, located in a French villa featuring exposed brick walls and mosaic tiled floors, the coffee shop is known for serving one of
Hanoi's best "egg coffees."
The thick coffee drink is a local staple, made with egg yolk in lieu of milk, coffee powder, condensed milk and butter.
Then there's
Nhac Xua Cafe
, a historic music spot, which began as an amplifier and speaker repair shop.
"When he first opened (the repair shop), the owner would serve customers green tea and play old music — mostly Vietnamese pre-war songs — while they waited," explains Nguyen.
"People loved it and asked the owner to turn that shop into a coffee shop. Sitting on the tiny bamboo chairs by Westlake in the evening and listening to old music will bring you back to the old days of Vietnam."
The storyteller
Hng nc tr huyn thoi #teashop #hanoi #hometown #vietnam #travel #dailylife #nov2016 #ricohgr
A Hanoi-born documentary photographer, Hai Thanh keeps a "visual diary" of day-to-day life in Vietnam on his popular
Instagram
account.
Formerly a photojournalist, working at local newspapers and magazines, Thanh has been photographing the city since 2004.
"In the early years, I used street photography as a tool to develop my own voice," says Thanh.
"The city is an eternal inspiration of mine — it's kind of like my big house. I have everything here: family, job, friends, foods and love."
#streetvendors #flowers #oldquarter #hanoi #hometown #vietnam #dailylife #travel #streetphotography #nov2016 #instagram #ricohgr
The self-taught photographer turns a lens on the city's social issues, including living conditions and the evolution of the city.
"I try to capture the emotions inside the pictures," he says. "When I'm on the street and taking photos, it keeps me motivated."
"I never expect the perfect picture — I just enjoy photography and finding one moment at a time."
For Thanh, the most interesting aspect of photographing Hanoi is its people — around Hoan Kiem Lake, in the Old Quarter or around the markets to see everyday life in the city.
"I love taking photographs of crowds — it's a lot of fun," Thanh says. "For travelers, I would send them to the narrow alleys, where residents live and share a public space together. It is so Hanoi!"
Of course, a trip to Hanoi isn't complete without sampling the city's diverse street eats — think ph b (beef noodle soup), bn ch (grilled pork with rice noodle), and bnh m pate (goose pate sandwiches).
"You must taste the local food in every corner of the Old Quarter," he says. "You don't know anything about Hanoi if you never try the street foods."
The activist
#cafe #tit #17months #kycon #saigon #family #travel #stair #apartment #oldhouse #maikaelan
Married to Hai Thanh, Maika Elan is a documentary photographer who tells intimate stories through her lens.
She picked up a family camera in 2006 and started experimenting while studying sociology in university.
At the time, Elan focused on the villages and farmers in the countryside. But as she advanced, she took interest in city life and issues closer to home.
"For me Hanoi is always full of positive energy and almost everything is on the street so you really can see the real life here," she tells CNN Travel.
"I love to take picture in the small alleys. They look very small and dark from outside, but when you walk in, its very long and often open up to stairways or kitchen, with lots of sunshine. It always takes me by surprise."
A ceramic seller stand in front of her shop. #portrait #hanoi #vietnam #market #maikaelan #photography #viiphoto #viimentorprogram #ceramic #woman #vietnamese
Sporting a shock of blue hair, the Hanoi-born photographer says the city's positive energy never ceases to inspire her.
"With photography you will see the small details," she says. "I live more in the moment with photography. You see more, talk to more with people. It changes you day by day."
But her real passion lies in documenting the everyday struggles facing Vietnamese people.
In 2012, she won a World Press Photo award for an image depicting an LGBT couple in bed.
The photo was part of Elan's "The Pink Choice" documentary project, where she spent two years traveling across Vietnam to explore the lives of same-sex couples.
By the end of the journey, she had taken hundreds of intimate photos in the homes of more than 70 gay couples.
"People showed me their love and how they survived, how they stand together," she says.
Love the music from CNN's #MyHanoi videos? Here's a full list of featured tracks:
Read more: http://www.cnn.com/2017/04/05/travel/myhanoi-instagram-insider-guide/index.html