Charles Manson, the imprisoned wild-eyed cult leader who masterminded the 1969 murders of actress Sharon Tate and six other people in Los Angeles, has died. He was 83.
Manson died of natural causes at 8:13pm Pacific time on Nov. 19 at Kern County Hospital, according to a statement from the California Department of Corrections and Rehabilitation. He was serving a life sentence at a state prison in California.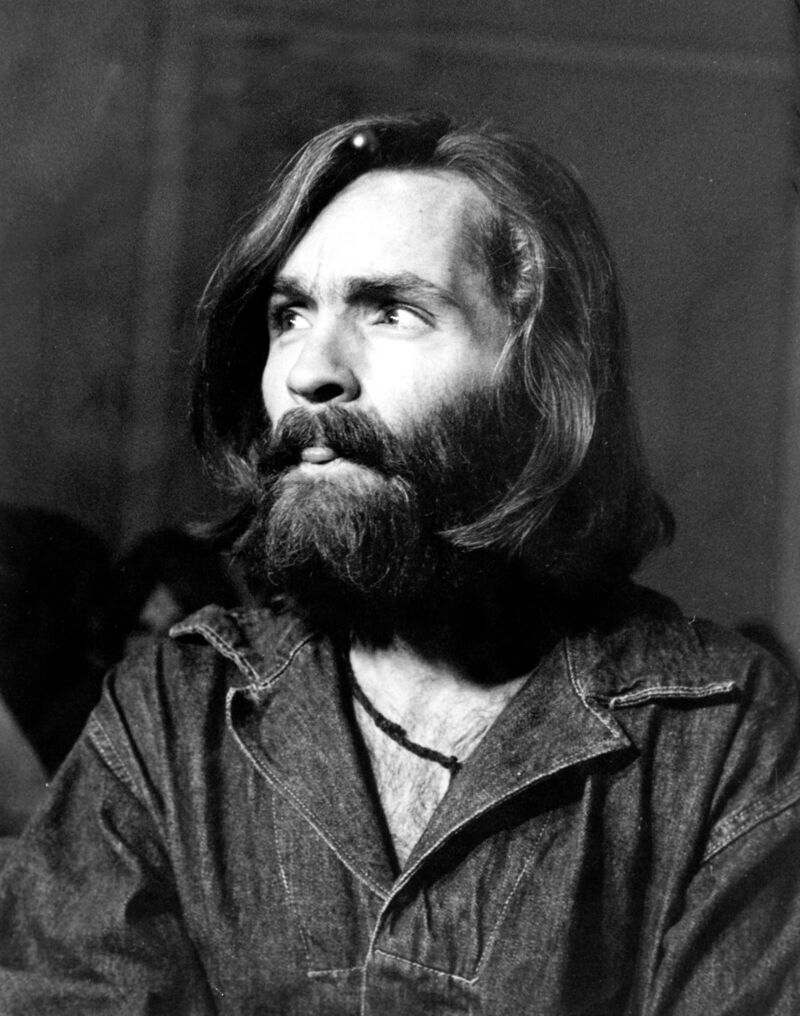 A career criminal, Manson persuaded a drug-induced flock of followers — the so-called Manson family — that he was the reincarnation of Jesus Christ and that they would survive and rule the world after a racial apocalypse he called "Helter Skelter." The name came from a Beatles song he viewed as prophetic.
Manson's followers may have killed more than two dozen people by some reports, but criminal trials against him and his group focused on the savage killing spree that became known as the Tate-LaBianca murders.
With a focus on killing Hollywood celebrities, Manson ordered followers Charles "Tex" Watson, Susan Atkins, Patricia "Katie" Krenwinkel and Linda Kasabian to invade a Los Angeles home on Aug. 9, 1969, and kill its occupants.
Death Toll
In addition to Tate, the 26-year-old pregnant wife of film director Roman Polanski, those killed from multiple stabbings and gunshots were writer and actor Wojciech "Voytek" Frykowski and his partner, the coffee bean heiress Abigail Folger; celebrity hairstylist Jay Sebring and Steven Parent, a friend of Tate's gardener. Polanski was in London working on a film.
Kasabian acted as the lookout and became the star witness against Manson, whose role in the killings was discovered by police while investigating other crimes. She was offered immunity for her testimony.
The killing of Tate, who starred in films such as "Valley of the Dolls," was particularly gruesome. She was stabbed in the stomach by Atkins despite pleas to spare her unborn child, whose delivery date was near. Atkins used Tate's blood to write the word "pig" on the front door.
The next night, Manson took Watson, Krenwinkel and Leslie Van Houten to the home of supermarket executive Leno LaBianca and his wife, Rosemary, who were also murdered.
The trio stayed in the house for a while, eating food from the LaBianca's refrigerator and playing with the couple's dogs.
Intended Victims
Atkins told fellow prisoners that the Manson family planned to kill other Hollywood stars to help trigger the racial apocalypse Manson predicted. She died in a women's prison in 2009.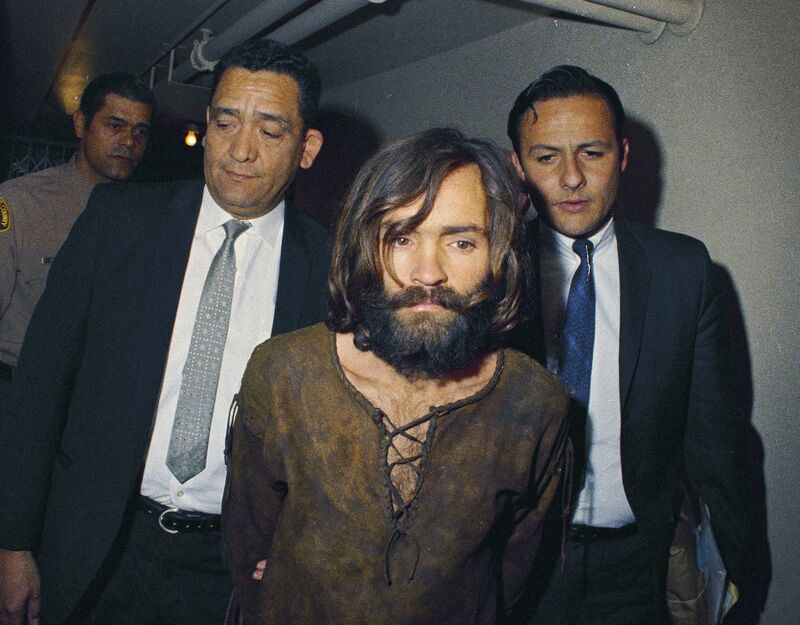 Manson's trial began in June 1970. After a trial characterized by the giggling and grimaces of the defendants, Manson was convicted of first-degree murder in January 1971.
He was sentenced to death. California's supreme court later ruled capital punishment illegal, and he was re-sentenced to life imprisonment. Manson, who carved a swastika into his forehead while in prison, was denied parole more than a dozen times.
"There's no murder in a holy war," he told Charlie Rose in a 1986 interview on "CBS News Nightwatch," referring to Tate's slaying.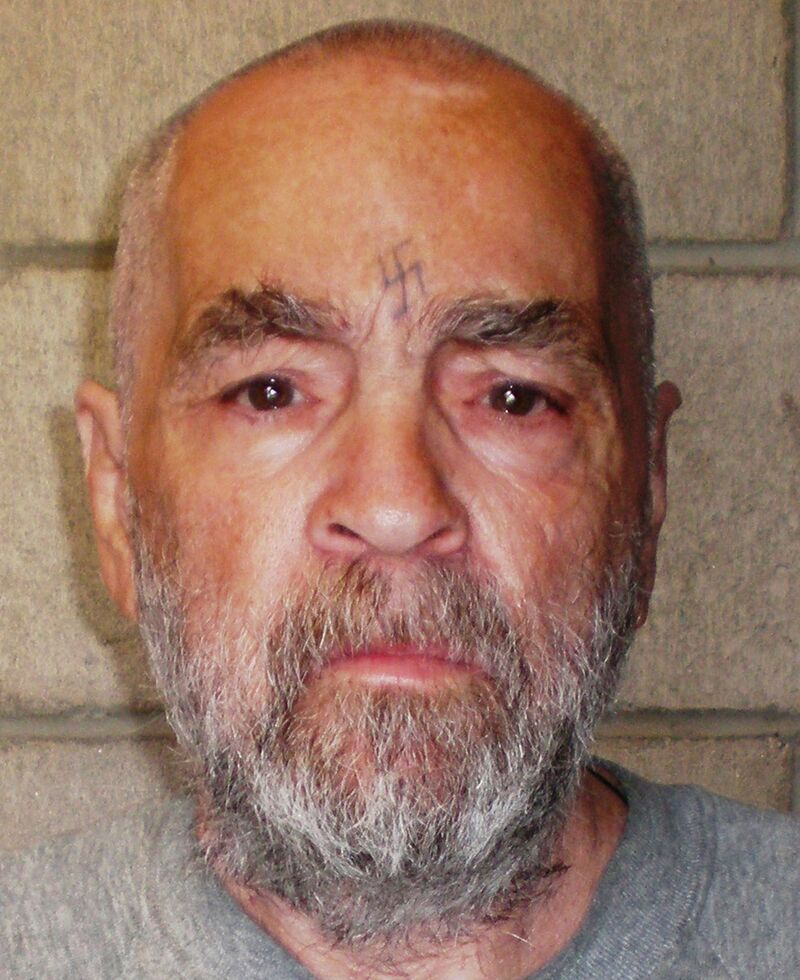 Charles Maddox, whose crazed deeds would spawn a series of books, movies and documentaries, was born Nov. 12, 1934, in Cincinnati, Ohio, to Kathleen Maddox, a 16-year-old alcoholic prostitute and Walker Scott. After her marriage to William Manson, Charles was given his step-father's last name.
Career Criminal
He made a living through crime, spending half of the first 32 years of his life behind bars. Manson was put in jail for armed robbery, arson, burglary, assault, mail theft, drug possession, forgery, credit-card fraud, receiving stolen property, pimping, grand theft auto and numerous parole violations.
After his release from prison in 1967, he became a cult guru in the San Francisco area as a prophet of the apocalypse and tried to pursue a career in music.
He was befriended by Dennis Wilson, the drummer in the Beach Boys band. Through this association, Manson got an opportunity to audition for record producer Terry Melcher, the son of singer and actress Doris Day. Melcher, who had rejected Manson's bid to make a record, was the previous occupant of the Los Angeles house Polanski and Tate had rented, which was the site of the first murders.
In 1955, Manson married Rosalie Willis and had a son Charles Manson, Jr., who committed suicide in 1993. After their divorce, he married Leona Stevens and had a second son, Charles Luther Manson. He had a third son, Valentine Manson, with Manson family member Mary Brunner.
"The name Manson has become a metaphor for evil, and evil has its allure," the prosecutor of the Tate-La Bianca case, Vincent Bugliosi, co-wrote in the best-selling book on the Manson case, "Helter Skelter: The True Story of the Manson Murders." "Some people have the same fascination for Jack the Ripper and Hitler."
Read more: http://www.bloomberg.com/news/articles/2017-11-20/charles-manson-jailed-mass-murdering-cult-leader-dies-at-83