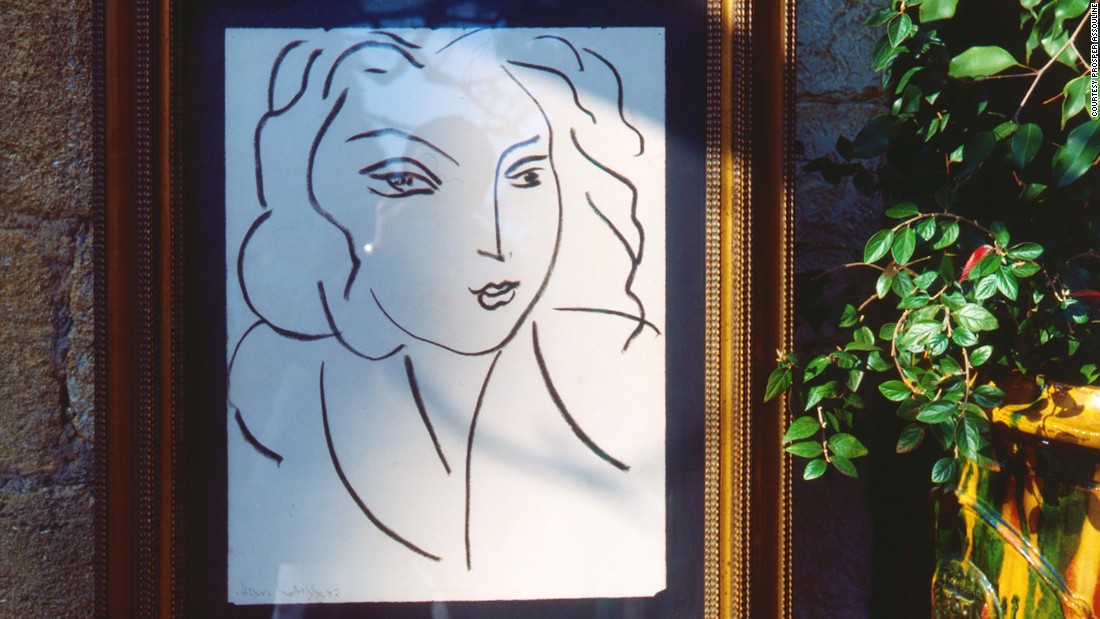 Cannes, France (CNN)Walking around La Colombe d'Or, a casual eye places it among the many inns dotting the French Riviera. This Provencal auberge wears its rustic charm like a badge of honor, or perhaps armor, warding off the dull trappings of the 21st century.
Whitewashed plasterwork, scratched and scuffed, evokes simpler times. The inn's many nooks and crannies speak of a building that has lived, breathed and grown over the years, before settling into reassuring, unrefined normality.
Except there's nothing normal about La Colombe d'Or. Look closer and artworks start to emerge: a Picasso nestled in one corner, a Matisse in another. In the courtyard outside, an Alexander Calder mobile rotates in the breeze while a Fernand Lger mosaic remains unmoved.
Some of the greatest names in modern art, nonchalantly arranged to look not only as if they belong, but as if they were created here. The thing is, some of them were.
"[The artworks are] completely part of the house, so we don't think of it anymore," says the inn's third-generation owner Daniele Roux. "But you can't touch them, because the alarm system is so strong."
Perhaps unsurprisingly, she won't be drawn on La Colombe d'Or's insurance value.
Tea with Matisse
The story of La Colombe d'Or (which translates as "The Golden Dove") is of a family that played the long game. In 1931, farmer's son Paul Roux and his wife Baptistine opened their restaurant in a secluded corner of Saint-Paul-de-Vence, a medieval hilltop village west of Nice.
Its raison d'etre was bon vivance; good food and good times, a place to while away lazy summer days, eat heartily and drink well.
With a handful of rooms above a bustling eatery, there was nothing remarkable about the inn's setup. What no one could have anticipated was the clientele drawn to this crumbling bolthole and its unlikely role as a meeting place for the creative elite of the 20th century.
Read more: http://www.cnn.com/2017/06/14/arts/la-colombe-dor-vence-art/index.html