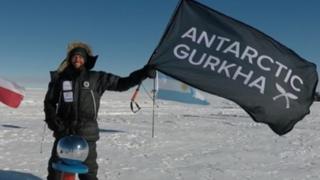 Tennis star Andy Murray's brother-in-law believes he has become the youngest person to reach the South Pole solo.
Scott Sears, a lieutenant in the First Battalion Royal Gurkha Rifles, pulled a sled and supplies for 38 days through 150mph winds in temperatures of -50c.
His 702-mile trek ended at the South Pole on Christmas Day, more than 12 days sooner than he had anticipated.
The Guinness Book of Records has yet to confirm whether the 27-year-old's feat will make it into the record books.
Lt Sears, from east London, is the brother of Murray's wife, Kim.
From a family of tennis players, he played the sport on the international circuit until the age of 19. Several years later, he went on to join the Army.
'Not one more step'
The first part of the journey from Hercules Inlet where sea ice meets land in Antarctica is considered the most dangerous part, as the ground is riddled with crevasses.
Travelling alone meant Lt Sears was not roped up to a teammate who could stop him falling down them, and he used skis to cross the ice instead.
In a blog post from his five-week expedition, he described unexpectedly hitting a wall with just 38km (24 miles) to go on Christmas Eve, his penultimate day.
"I couldn't have asked for better weather but well and truly hit a wall midway through the day," he wrote.
"I've never experienced anything like it, I would take a couple of steps and just stop, everything was just saying 'no more, not one more step'.
"It was bizarre as I've genuinely been feeling pretty good."
But after some juice, biltong, chocolate and music on his iPod, he was back on his way.
That night, Lt Sears hung his socks up as makeshift stockings, but said he feared Santa might give them a miss because of the "state and stench" of them.
The following day, he reached the pole in blue skies, and wrote saying he was "absolutely chuffed to pieces".
He told the Daily Telegraph on Tuesday that he expected it would take a few weeks for the experience to sink in.
"I've been alone in a tent for nearly six weeks so it's all a bit overwhelming," he said.
"I can't wait to have a shower and get some food in me. I've been dreaming about it since day three!"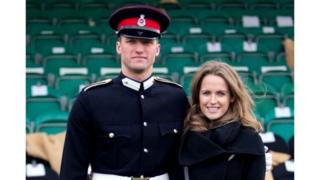 Judy Murray, Andy's mother, congratulated him, tweeting: "Well done Scott Sears – (brother of Andys wife Kim) youngest person to reach the South Pole on a solo mission. Got there on Christmas Day……"
Lt Sears has raised more than £33,500 for the Gurkha Welfare Trust to help rebuild schools in Gorkha, Nepal, which was destroyed in the 2015 earthquake.
Read more: http://www.bbc.co.uk/news/uk-42491607