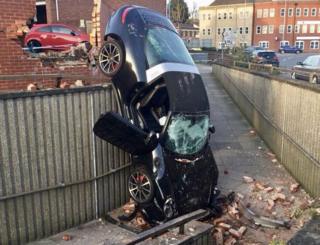 A 73-year-old man ploughed his Porsche through a wall and fence before nose-diving on to a footpath.
Essex Police was called to a pedestrian subway on Southway in Colchester after the smash at about 18:15 GMT. Neither the driver nor anyone else was injured.
Inquiries into the crash of the Porsche 911 Targa 4S, which sell for about £100,000, are ongoing.
Sgt Colin Shead posted a photo on Twitter, prompting comments including: "wow I thought my parking was bad".

You may also like:

Another said: "That will polish out."
Sgt Shead added the driver, from Colchester, would be offered a "fitness to drive" course and the DVLA notified.
Porsche 911 Targa 4S facts
Price: Just over £101,000
Top speed: 188mph (303km/h)
Acceleration: 0-62mph (0-100kmh) in 4.4 seconds
Source: Porsche.com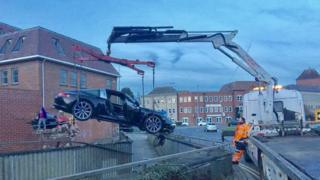 Read more: http://www.bbc.co.uk/news/uk-england-essex-43662862