Clinicians in Detroit have seen that for people with autism, music speaks louder than words and improvised music can help them express emotion effectively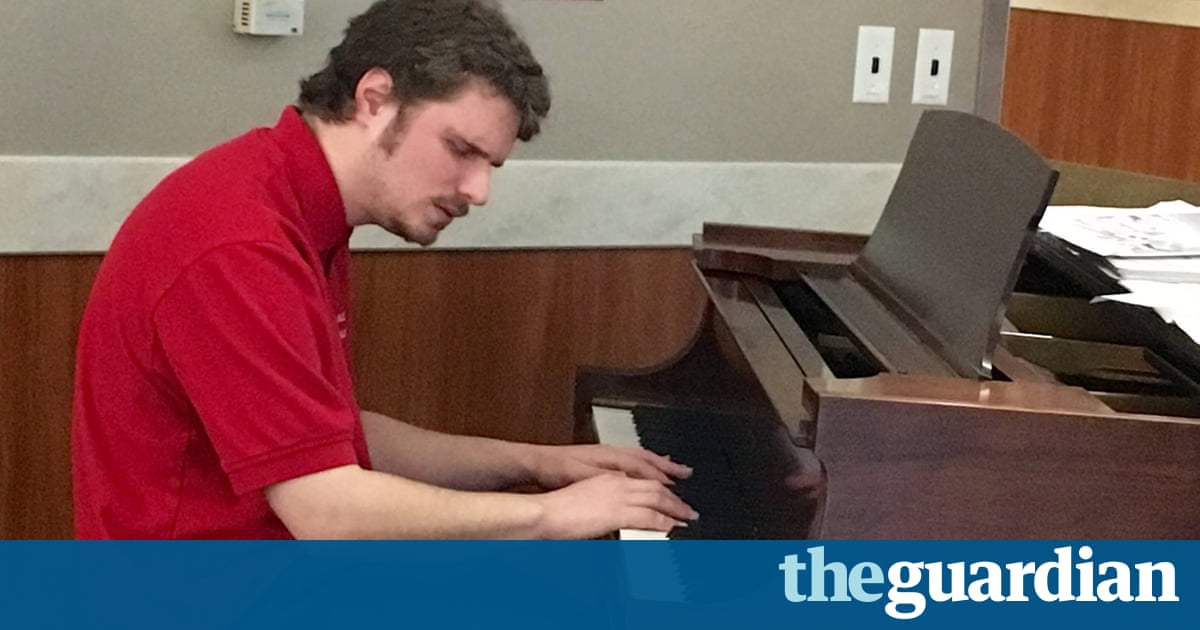 On a Wednesday afternoon at Beaumont hospital in Royal Oak, on the outskirts of Detroit, a blind 25-year-old man with autism plays piano near the hospital entrance. Doctors, patients, nurses and families crowd around Lance Vardon, who is seated at a grand piano playing Bachs Prelude in C Major.
Three days a week, the same group gathers around the grand piano during their lunch hour. Vardon launches into Journeys Dont Stop Believing with his music therapist Lisa Barnett, who has worked with the young man for 16 years. Seated together at the grand piano, Vardon plays one hand of keys and Barnett, who sings, plays the other. The small crowd soon doubles in size.
For Vardon, who was born to deaf parents, music speaks louder than words. Diagnosed with autism at age seven, he has a severe case with limited verbal communication. He can answer yes or no, but he cant verbalize his feelings. Barnett has worked with him to increase his ability to socialize and be more independent. Thats the aim of music therapy: to reach goals, which can be physical, emotional or cognitive, for those with autism spectrum disorder (ASD), which leads to difficulty communicating and forming relationships.
Clinicians have observed that people with autism can use improvised music to express emotion effectively. According to preliminary research not yet published, Edward Roth, director and professor of music therapy at Western Michigan University, says children who were put into a functional magnetic resonance imaging (fMRI) scanner while improvising or listening to someone improvise music showed activity in the parts of the brain involved with communication.
If you were to look at those brains, you couldnt tell the difference between people who were interacting through music and people who were interacting verbally, he says. Theyre having a nonverbal discussion through music and these arent musicians, these are musically naive children.
Another test involved taking blood from college students before and after singing both improvised and composed music. Results for composed music showed a decrease in stress hormones, and results for improvised music showed a decrease in stress hormones and an increase in oxytocin, which is thought to be a marker of bonding and trust. According to the study, which was published in Frontiers in Human Neuroscience, the results indicate that group singing reduces stress and arousal and induces social flow in participants.
The social aspect of creative arts therapies such as music are highly beneficial for disabled children and young adults. At Michigan State University, 4th Wall Theatre Company which has classes all over the state puts on theater programs that include singing, dancing and acting.
One participant, 21-year-old Christopher Hibbs, has pervasive developmental disorder on the autism spectrum and wants to be a professional actor. His mother Martha says the class has helped him come out of his shell. It brings kids joy and shows them what they can do, she says. It gives them a sense of accomplishment. Now several programs in, Hibbs has become more aware of other people and their disabilities, which has helped him learn empathy. (Areas of the brain associated with empathy showed activity in the fMRI tests, too.)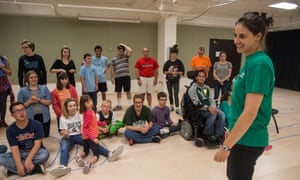 Read more: https://www.theguardian.com/music/2017/mar/01/autism-music-therapy-detroit